How mobile networks work
How the mobile network system operates
Mobile phones work by sending and receiving low power radio signals, much like a 2 way radio system. The signals are sent to and received from antennas that are attached to radio transmitters and receivers, commonly referred to as mobile phone base stations. The base stations are linked to the rest of the mobile and fixed phone network and pass the signal/call on into those networks.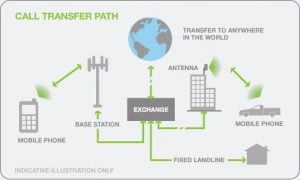 In essence, a mobile phone needs to have 'sight' of a mobile phone base station. In other words, the radio signal from the phone to the base station needs to be uninterrupted. Hills, trees and tall buildings can obscure this line of sight and so base stations need to be very carefully located to maximise the coverage available.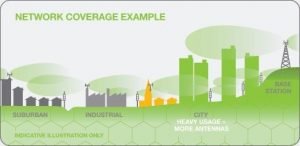 Mobile networks continue to evolve in response to customer demand. In the early days of mobile phone coverage, calls could only be made and received in certain locations. Since then, networks have expanded to provide continuous coverage in most metropolitan areas.
As the number of mobile phone and broadband users increases and the level of network traffic increases, then pressure is put on mobile network operators to continue to provide the level of service people have come to expect. The rate of change in mobile network technology is rapid and these advances have led to enormous growth in the uptake of mobile broadband. Users accessing the internet via mobile internet and broadband devices place considerable additional demand on mobile networks.
Network examples
There are different types of mobile networks, and different infrastructure relating to each.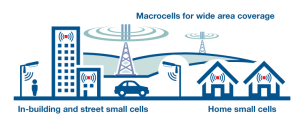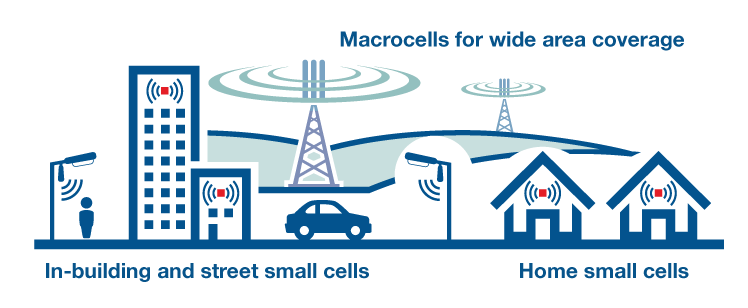 Macrocells cover large geographic areas. They are typically made up of antennas and associated equipment located on building rooftops, towers or poles.
Inbuilding cells provide coverage inside buildings such as multi storey office buildings, shopping centres, apartments, and underground railway systems by installing specially designed "In Building" systems. These systems are sometimes referred to as Distributed Antenna Systems (DAS) or In Building Coverage (IBC). Small antennas located on ceilings or walls in strategic locations throughout the building.
Small cells provide mobile device coverage or additional network capacity to a small geographic area. They operate at lower power than a traditional mobile phone base station and use smaller equipment. Small cells complement existing technology and work with existing sites to provide a better network experience.
Small cells can be deployed with minimal visual impact as they use smaller antennas, smaller equipment and can be co-located on existing infrastructure such as electricity and light poles.
Small cells can be used to either increase the existing network capacity or provide new coverage. Small cells are built in all areas including urban and rural communities and are suitable for residential areas.